Crawl Space Vapor Barrier Installation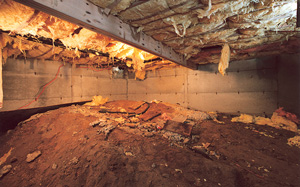 This crawl space's vents and dirt floor
have let in enough moisture to cause
the insulation to fall to the floor.
Crawl space humidity enters through the crawl space vents during the summertime. In the winter, crawl space vents allow frigid air into the space. This means a continuous drain on your utility bills as well as a rotting, smelly, dirty crawl space under your home. Additionally, vented crawl spaces will create an access point for insects, animals and all types of pests.
All of these problems can be helped by simply installing a crawl space vapor barrier, airtight crawl space vent covers and doors, and a crawl space dehumidifier in the space. Installation is fast and the vapor barrier itself comes with a 25-year warranty. For a Free Estimate on a crawl space moisture barrier system in your California home, contact Clean CrawlSpace of Santa Rosa today!
Step 1: Install Airtight Doors and Vent Covers
Sealing off crawl space vents stops the vicious cycle of humidity and cold air constantly entering your crawl space and then moving upward into your home year-round. Covering the crawl space vents and doors with an airtight seal will make your home more energy efficient. Even with a crawl space vapor barrier installed, moisture can still enter through the crawl space
Old-fashioned crawl space doors are not likely to be airtight. It is very important to seal the crawl space entry with an airtight door that will not rot, rust or need paint.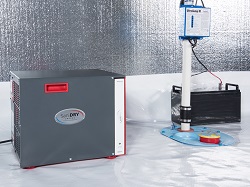 The perfect solution! TripleSafe Sump Pump System and SaniDry™ Sedona Air System in a crawl space encapsulated with CleanSpace.
Step 2: Get the Crawl Space Dry!
If your crawl space gets wet, this problem must be addressed before anything else is done. Depending on your crawl space, a specific drainage system may be recommended along with a sump pump system, to pump the water out of your crawl space and away from your home.
Plumbing leaks are also responsible for wet crawl spaces. Since homeowners do not generally enter their crawlspaces on a regular basis, crawl space plumbing leaks have been known to go unnoticed for days, months, or even years! Any plumbing leaks should be repaired prior to the CleanSpace® installation.
Step 3: Encapsulate the Crawl Space
The crawl space vapor barrier installed by Clean CrawlSpace, Inc. is a 20 mil thick vapor barrier with seven layers of high-density polyethylene and low-density polyethylene, plus polyester cord reinforcement to give it incredible strength. The finished side is white so your crawl space is brighter with the available lighting. You can see the crawl space is free of dirt, bugs and mold. WallCap should also be installed to complete the encapsulation if you have block walls. The open cavities at the top allows in a lot of unconditioned, moist air! The WallCap is clear to allow for termite inspections with no need for the barrier to be pulled down.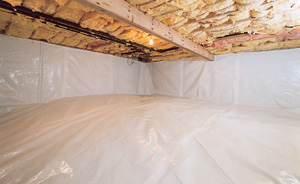 CleanSpace® Encapsulation System
Installed! No more musty smells or
cold floors for this homeowner!
Step 4: Install a Dehumidifier in your Damp Crawl Space
Once the crawl space is isolated from the earth, it's a good idea to install a crawl space dehumidifier. Homes that have had high humidity levels in the crawl space will retain some of that moisture in the wood even after the space is encapsulated. The right dehumidifier can dry this out, while making sure that any future moisture is not trapped in the space. The SaniDry™ Sedona is available in California by Clean CrawlSpace, Inc. The SaniDry™ is self-draining, and powerful enough to dehumidify the whole crawl space, while also taking particles out of the air down to two microns in size! This helps make your entire house healthier!
No matter what condition your crawl space is in, we can help! For a free, no-obligation crawl space vapor barrier installation quote, call or e-mail us today!
Clean CrawlSpace, Inc. serves Salinas, Santa Rosa, Vallejo, Hayward, San Mateo, Concord, Sunnyvale.
Looking for a price? Get a no cost, no obligation free estimate.