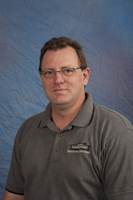 Clean Crawlspace continues to provide expert knowledge and training on identifying moisture issues in the bay area for CREIA home inspectors. Clean CrawlSpace's Marketing Director, Scott Smith, a certified Moisture Control Specialist with a background in home inspections, understands that current training is vital for inspectors to understand and communicate to their clients the conditions that are discovered.
Smith's presentation, entitled "Identifying Moisture Issues When There is no Standing Water," has been well received at the Greater Sacramento and Golden Gate Chapters of CREIA. Understanding the "Stack Effect"–how moisture migrates through a structure–and photo examples of what to look for, gives inspectors tools to accurately report their findings.
"The more professionals that understand the damaging effects of moisture under a home and are able to communicate that to their clients, the healthier the owners will be and the structure will suffer far less damage by having experts seal the space and isolate the dirt from the structure," Smith said.
Clean CrawlSpace's highly trained staff is available to answer your crawlspace moisture questions and provide a no-obligation inspection. Smith is available to speak at your next event about the damaging effects of moisture on your home, your health and your wallet. He can be reached at [email protected]