Our CleanSpace® Crawl Space Liner: A Green Solution
Crawl space vents are causing a housing epidemic all across the country, including the San Francisco Bay area and nearby points in California. Since their first installation, crawl space vents have grown infamous for turning crawl spaces into rotting, moldy, and energy-inefficient spaces. Clean CrawlSpace, Inc., an expert crawl space repair contractor through the Basement Systems Network, has a long-lasting and environmentally sensible solution that will save you money and repairs for many years to come. For a Free Estimate on crawl space encapsulation, call or contact us online today!
A Crawl Space's Worst Enemies: Rot and Decay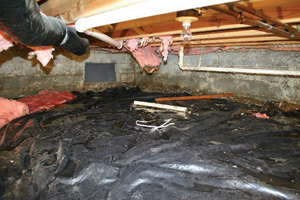 A flimsy vapor barrier won't do the trick
The root of the problem plaguing traditional crawl space construction in San Jose, Santa Rosa, and other nearby areas in California is your crawl space vents. Vented crawl spaces try to create a crosswind in the space, which causes air to circulate through. The idea is that by doing so, you can naturally keep the space free of rot and humidity. However, due to the natural upward movement of air in a home, crawl space air does not run horizontally through from one vent to the other. Instead, it flows up!
This makes a lot of sense. If crawl space vents worked the way they were designed to, then rot and humidity wouldn't be the problem it is, right?
In addition, cold winter air can also circulate through a home through these crawl space vents. The cold air pulled in will affect everything in the space, including water heaters, hot water pipes, furnaces, and heating ducts. These utilities will be forced to work harder just to do their daily work, and the added cold air cools the floorboards above, making an uncomfortable floor and causing you to turn your thermostat up. The end result is more money spent during the cold months.
A wet crawl space with a wimpy
dehumidifier in Santa Rosa, CA
During the humidity and heat of summer, the problem is much worse. Instead of drying your crawlspace, the summer air that flows in adds an enormous amount of humidity. As this humid air enters the space, its temperature drops to about 50 degrees, and the relative humidity rises. This leads to condensation throughout the crawl space, including on wood, support beams, metal, insulation and floorboards. As this condensation builds and saturates the area, it will lead to rot, mold, and higher risk of infestations of termites, ants, beetles, rodents, and other pests. This humid air creates a drain on air conditioners in the space, as humid air is much more difficult to condition than dry air.

Crawl space rot can quickly mean sagging floors, a compromised structure, foul odors, and mold allergens in the home. If the crawl space is allowed to decay to the point where the materials need to be replaced, the homeowner will have to find a contractor willing to repair it. Finding a good contractor willing to crawl into a disgusting, unhealthy, dirty and narrow space is not easy. Finding one who will rip out the rotting boards and replace them with new ones and not just "sister" them up, is also no small task. The result is expensive, wasteful, and still does not fix your problem.
Environmentally Friendly Crawl Spaces in California
A dirt crawl space ready to be
encapsulated with CleanSpace!
With the current building practices, we now know that crawl spaces with vents will become rotting, moldy places that offer a continual drain on our utility bills. However, this does not need to be the case in your home. By sealing off your crawl space vents you can ensure a drier, longer-lasting, and more energy-efficient space.
Encapsulating the crawlspace in California with airtight crawl space doors and vent covers and lining the walls with a tough, durable crawl space vapor barrier is the answer. The moisture barrier will keep outside air and humidity out of the crawl space while also providing a passive barrier that will help keep out rodents, insects, and other unwanted pests.
After CleanSpace® transformed this crawl space in to a useable, dry area!
The CleanSpace® crawl space vapor barrier provided by Clean CrawlSpace of Santa Rosa, CA is a 20-mil polyethylene liner that can block moisture from entering the crawl space and includes a 25-year warranty that ensures a dependable long life for the product. The liner is bright white, so you can see that your crawl space is clean with the available lighting. It is durable enough for a homeowner and servicemen to crawl on without ripping or tearing the liner. CleanSpace® has anti-microbial protection, called UltraFresh, built right and won't break down from UV rays over the years. Once installed, the CleanSpace® encapsulation system even makes the crawl space a usable storage area!
To make the most out of your crawl space encapsulation project, be sure to include an energy-efficient dehumidifier. This will help remove any moisture and humidity present in the air, wood, or other materials while protecting from any possible future humidity as well.
After Photo of CleanSpace®
To help with your crawl space dehumidification, Clean CrawlSpace provides the SaniDry™ - crawl space dehumidifier. This amazing machine combines the twin forces of Energy Star-rated dehumidification with the capability of removing up to 100 pints of water out of the air per day! This crawl space and basement dehumidifier includes a special air filter that will remove particles as small as 2 microns in size - small enough to remove pollen, mold spores, and even dust mite droppings (the number one home allergen) from the air. With a convenient self-draining design, it requires very little upkeep or maintenance.
If you'd like to learn more about installing a green crawl space encapsulation system in your California crawl space, call or e-mail Clean CrawlSpace today! We can encapsulate your crawl space quickly and effectively - usually in one day. The end result will save you money, make your home more comfortable, add storage space, and help you avoid expensive repairs in the future.
For a Free Estimate on a crawl space vapor barrier installation in Santa Fe, or anywhere else in the Bay Area, California, call or contact us today!
Looking for a price? Get a no cost, no obligation free estimate.